Hi beautiful people! Happy Hump Day! I hope that you all are having a productive week and are ready to end the week on a high note! It's hard to believe that March is over, but here we are, waiting on Spring to come and bless us with the beautiful weather.
Stress! Am I right? It seems like the older I get, the more often I hear myself wanting to say how stressed I am. I know that I'm not alone in thinking this way. CBS News reported, "An estimated 8.3 million American adults — about 3.4 percent of the U.S. population — suffer from serious psychological distress.." That's a lot of people in this country that are dealing with something serious, and probably not getting help. We all deal with stress in our own way. Some people use drugs and alcohol to try to forget about what is causing the stress. Some of us talk to friends/partner about it. Some people try to ignore it, and push it down real deep until it blows up into something bigger causing a world of anxiety.
The only way to deal with stress in a healthy way that won't cause anxiety is getting to the root of the stress. What problem are you worried about? Is it a job?  Is it a relationship? Is it finances? Find out what that problem is, and try to put together a plan to fix it. If what is stressing you is something out of your control, I suggest saying the Serenity Prayer (below). This has helped me many times deal with things that I literally had to just wait and see how they played out.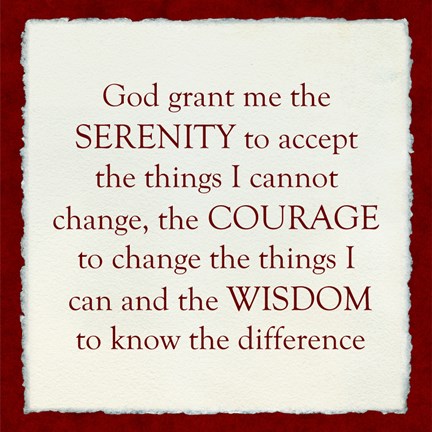 So my challenge to you today on this beautiful Wednesday, is to change the well you deal with the stress that you may be feeling today. Don't let it fester up and get to anxiety level. But get to the root, and try to handle it there. I hope you all have a great day an don't forget to spread some PositiviTea!